Limited companies, for business use only.
The Benefits of Leasing :
– Leasing your equipment means that you can enjoy the profits immediately without paying out a lump sum up front. Spread the cost of the VAT which is paid in instalments rather than as a lump sum up-front (excluding Hire/Lease Purchase agreements).
Cash Flow

– Using Leasing protects your cash flow. Make your capital work for you – Rather than sink valuable cash into depreciating assets, deploy it elsewhere for higher returns.

Protects Existing Credit Lines

– Leasing does not affect your credit lines. Reduce dependency on your primary funder(s) – Your existing credit lines remain unaffected and you will have access to over 20 specialist asset funders.

Tax Deductible

– Lease rental payments are 100% tax deductible against profits. Significant tax benefits – For private organisations payments are fully tax deductible unlike using cash.

Best Product

– You have the access to a higher standard of equipment as makes expensive kit more affordable. Make investment decisions based upon your needs and not limited by constrained budgets.

Fixed Payments

– Lease payments are fixed, which makes budgeting easy. Low, fixed payments allow easy budgeting throughout the term.

Easy Upgrades

– Upgrade your equipment before the lease ends should you require. Manage obsolescence and refresh assets strategically rather than face un-budgeted large write offs.

Competitive Finance

Options

– Affordable payments. Spread the cost of your purchases in line with the return on the investment.

Turnkey Funding

– Build all your costs into the lease to maximize your benefits even further.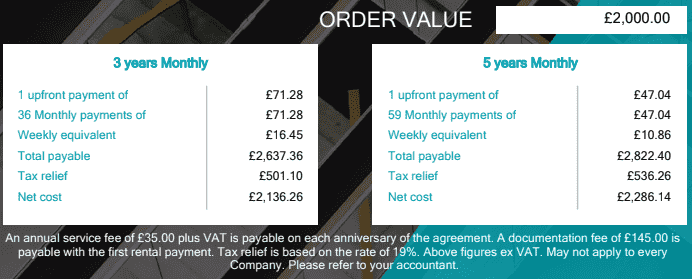 We have a number of ways that you can lease your next kitchen extraction system:-
Business leasing - an example is shown above
Laybuy by Paypal - instant decisions and upto 6 months to pay
Klarna Checkout - limited payment choices but easy and quick